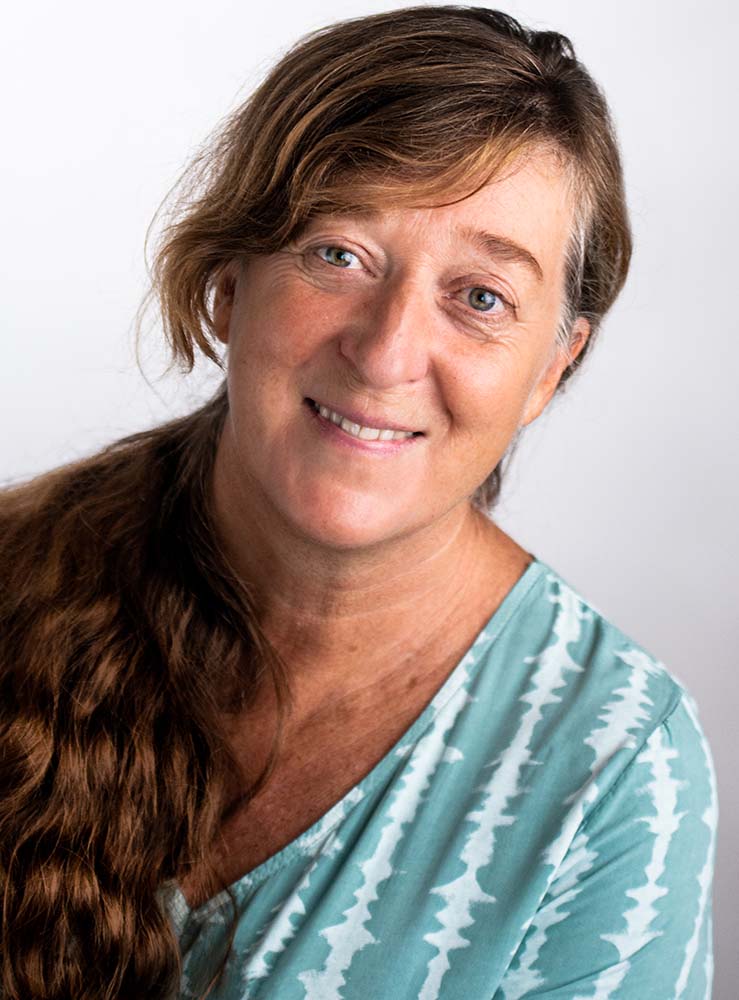 Bec Applebee
(she/her)
Equity no: M00127903
Hair: Dark Blonde/ Brown
Eye colour : Hazel
Bec is one of Cornwall's recognised creative practitioners having been trained in Cornwall's unique style of 'Do It All theatre'. She is a strong deviser, improviser and physical theatre performer. Bec has worked first and foremost as an Actor and Musician but also as a
Director, Deviser, Producer and Workshop leader. Bec has worked in the Theatre Industry for over 30yrs and has performed with some of Cornwall's foremost and ground-breaking companies.
She has worked in many very unusual performance spaces, from tiny village halls, school halls in South African townships to the National theatre and the Albert Hall. Performing in mining wastelands, stormy beaches and ponds to derelict castles; village greens and the Minack theatre. She continues to tour, nationally, internationally as well as locally.
Theatre Experience :
Kneehigh Theatre:
Bec started her career as a member of Kneehigh Theatre in 1986 working intensively with the company as a core member for 20 years working mainly as an Actor but also as workshop leader. She performed locally and internationally in shows such as Peer Gynt, Strange Cargo, Ship of Fools, Windfall, The Red Shoes, The King of Prussia, The Riot, The Ash maid, The Wooden Frock , Ghost Nets 1 and 2 (over 20 shows)
Bec chose to stop international touring with Kneehigh to raise her young family. This was not an easy career choice. She then returned to take part as the Empress Catherine the Great in their final performance project Random Acts of Art in 2021.
WildWorks:
Bec was also a founder member of Wildworks working with Bill Mitchell on his site-specific projects firstly within Kneehigh and then in the newly formed specialist site specific company that is now Wild Works. She worked as an actor, devisor, workshop leader and performance director for the Three Island project The Old Man with Enormous Wings and Souterrain.
Bec Applebee Presents:
Having made the decision to create a more sustainable work life balance for herself ,Bec took the opportunity to create, devise and produced several of her own shows to great critical acclaim. Reviving her one woman show "Oh Mary!" as a Covid friendly production, performing at the Minack theatre during the Summer 2020 and continuing to tour nationally from May 2021.
Her shows include :
Oh Mary! (2008-2021)
Small scale and outdoor. Mary Bryant and all other characters. Based on the incredible life story of Mary Bryant. This is a one woman show physical theatre show with an epic original traditional Cornish sound track ( Co Directed with Simon Harvey, words by Anna Murphy, Choreography by Helen Tiplady and the soundtrack was recorded with 10 musicians)
Darke Women (2018):
Village Hall touring – Variety of Characters.
A tribute to the work of the playwright Nick Darke .This is a three woman show using selections from Nick's most accredited work but also airing some old scripts that have never been heard before.
The Ugly Sisters (2015):
Village Hall Touring: – Charity
Co-Directed with Simon Harvey. This was a family show gently exploring the notion that body dysmorphia has been normalised and accepted as we are so used to seeing photographs that are altered. The show had a series of schools workshops around the subject of healthy self image
Krill
Bec worked in collaboration with Suzie West and Rob Mannear to create a new production team "Krill". Brought together as a proactive team and as a reaction to Covid 19 . Together they produced four 'LIVE' Covid safe events throughout the summer and autumn 2020 enabling local freelance practitioners to work. The Shows made were Our proud Roots, Dancing in your streets 2, Dark Stories and Spooky
Recent Acting Credits
Cousin Jack's theatre/ Trebah gardens:
The Mousehole Cat (2007-2021)
Mouzer puppeteer and Narrator for The Mousehole Cat in rep in Mousehole's Soloman Browne hall village for 6 yrs. The show has recently on to the USA and Londob
Percy Pengelly and the Wibble Wobble
online reading (2020)- Various Characters
Operation Neptune
Trebah gardens: site specific (2019) – Rose
Yskynna
Estah – Estah's Story with at Heartlands: site specific (2019)
Cscape
The Guide – Hansel and Gretel 2017: site specific production
If the Shoe Fits : children theatre show – Multiple parts
The Venus Flower: Site Specific production – the Cornish Woman
Scary Little Girls
Dracula the Kisses : Outdoor production at Minack/ Heligan – Renfeild
Golden Tree productions
Solo Singer and Puppeteer -The Man Engine 2016
Gogmagog – Gogmagog 2014
Various Characters -Kernocopia and Weather the Storms, 2012 (part of the Weymouth Olympic opening ceremony )
The National Theatre
Actor/ Musician in the two hander Imagine That
Bec often works as a performance director for Incandescence circus and has been a mentor for Rogue theatre
Musical Experience:
Alongside her acting Bec has a complimentary career as a traditional Cornish Folk Artist playing with 4 Bands as a singer, percussionist and scoot dancer
Didjan
This is the newest collaboration , a duo with singer and musician Richard Trethewey. Bec and Richard are passionate about telling the unbelievable stories of remarkable characters that have given Cornwall such a strong sense of identity. Didjan have a creative approach to their music, incorporating a wide variety of tools such as fiddle, cittern, crowdy crawn, voice, spoken word and dance. Whilst a small morsel, Didjan create a sound and vision that goes beyond their number and are already creating a wave of excitement for what is to come!
Tosta Banda
Formed for Donostia's celebrations as European city of culture. 2016
Bec represents Cornwall as the Kernewek singer and musician. The band includes 11 musicians and singers from Atlantic Coast countries such as Scotland, Wales, Friesland, Ireland, Wales, Cornwall and the Basque Country. It is the first time that the instruments, rhythms, songs, styles and dances of these cultures have come together in an updated way to reinvent and reinterpret their original songs. Producing an original concert-show, with music and dance that shows the importance of minority and diversity. In the show, these songs are also added to the contemporary Basque dances of Kukai along with dances of the Celtic culture.
Skillywidden
Bec plays with the Nos Lowen band Skillywidden. Legends of Cornish Celtic dance music Skillywidden frequently pack dance floors with their take on the Nos Lowen style of Cornish dance music.
Dalla
Bec played with Dalla for 18 years as a singer and Percussionist recording 5 albums: A Richer Vein, More Salt, Rooz, Cribber, and K5. Dalla could be described as the first Supergroup in Cornish Celtic Music. Being instrumental in the earliest sparks of the revival in Cornish traditional Music.
Bosena Film Kara Kana Cornish Langauage primary school songs
Film , TV and radio credits:
O-region and Falmouth Museum film Hevva Hevva Cornish Voices
BBC 1 TV series 'Down to Earth'
BBC 4 radio series On the rocks by Christopher William Hill
Post Cards and The King of Prussia by Nick Darke